Great timing! You can start at any EFM Health Club across Australia and get a free meal box with our special new member offer! There's never been a better time to start (and score some free healthy meals!)
EFM MEMBERSHIP INCLUDES:
A personalised trainer with you every workout – without the exorbitant personal training fees.
Month-by-Month memberships (no lock-ins) and a special new member offer!
Programs for any age, any shape, size or fitness level. Let your EFM personalised trainer guide you to your goals.
Unlimited access to all fitness sessions (no bookings required).
Free Meal Box Voucher: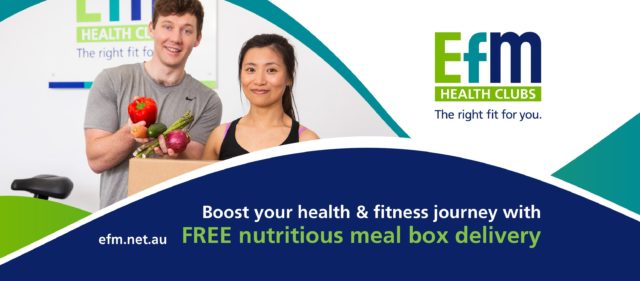 Join EFM today and we'll give you a Hello Fresh meal box delivery, FREE*! Hello Fresh make healthy eating easier with ingredients for healthy, delicious meals delivered direct to your door. What a great way to kick start your health and fitness journey.
*New Tasmanian members will receive a Earthly Eats meal box. New members from all other Australian states will receive a Hello Fresh meal box.
Get Your Free 14 Day Training Experience
We are the kind of club you belong in.
Gyms are facilities.
Clubs are about people.
We'd love to help you
Hundreds of new members every month experience the benefits of an EFM membership. Even if you've been out of fitness for a while, there's a place for you at EFM. Just like there has been for the following long-term EFM members:
Frequently Asked Questions
What does my membership include?
Your membership at EFM includes unlimited access to the fitness studio. When you come in for a workout at EFM, your Personalised Trainer guides you through each and every workout. You receive the attention and motivation of a personal trainer, but at a fraction of the cost.
No bookings required – train when you like!
Did we mention that we have a "no waiting for machines" policy? Time effective workouts are what we specialise in right across our 40+ Australian locations!
Do I need to sign up for 12 months?
Ever paid for a gym membership that you didn't use? 12 month contracts are restrictive and costly if your situation ever changes. We've taken this all on board and come up with a "member-friendly" membership structure and you're going to love our month by month memberships! If you ever decide to leave EFM, you can do so with as little as 14 days' notice. No 12 month contracts!
How much does an EFM membership cost?
We have a range of membership options to suit the individuality of what you require from your fitness program in order to get the results you want. It is difficult to provide an indication of one monthly membership price without knowing the type of fitness program that is required to get the results you want.
We understand that most people would like an indication of prices, so a guide of what you can expect to pay for an EFM Health Clubs Personalised Training Membership is a range from $30 to $55 per week (for unlimited access).
The best way to find out the membership option that will suit you is to make an enquiry. One of our fitness trainers will be in contact with you in 24 hours or less to talk you through the options and to see what discounts and special offers that you can take advantage of.
When do I get my meal box voucher?
We will email your voucher to you after you join and you can order your healthy meals right away! The approximate value of the meal box is $77 including delivery.
Start NOW
Get Your Free 14 Day Training Experience