Looking for the Best Gyms in Melbourne?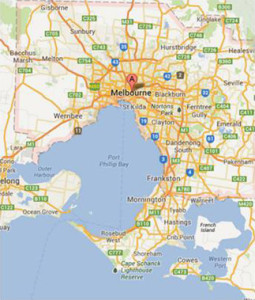 EFM Health Clubs allow members to utilise their membership at any EFM location, not only those in Melbourne, but also across Australia.
This means you have the ability to attend an EFM gym close to your home or work, or whilst travelling! This can be for once-off fitness sessions, or a more permanent arrangement.
Our flexible membership options mean that EFM Health Clubs are the best Melbourne gyms to maintain consistency and achieve your weight loss, fitness and health goals!
We were a pioneer in the fitness industry in implementing a "no lock-ins" membership policy throughout our Australian clubs.
EFM Health Clubs Melbourne Gym Memberships:
We have a range of health and fitness program offerings throughout our many Victorian locations. Our members love the fact that our gym memberships include Personalised Training, which means you have a fitness professional helping you through each workout much the same way a personal trainer would. But the best part? Our memberships are a fraction of the price of personal training.
EFM Health Clubs in Melbourne:
EFM gyms right across Melbourne provide members with a very unique service, which we call Personalised Training.
Essentially, Personalised Training provides you with a service that is very closely aligned to Personal Training, however without the expense of having to pay $1 per minute for a Personal Trainer.
At each fitness session at one of our EFM Fitness Studios, you will have a Personalised Trainer to actually take you through your program.
This means, having a fitness professional to tailor your program, setup your machines, provide you with technique and "how to" advice so that you are able to exercise very specifically towards your goals.
Not only that, we actually track your visits to the club and reward you at various visit milestones throughout your membership with small gifts.
If for some reason we notice that we have not seen you for a few days, you can expect your Trainer to make contact with you to get you back on track, just like a Personal Trainer would do for you!
EFM Health Clubs Melbourne Gym Locations:
South Eastern locations:
We have two gyms in Melbourne's South Eastern suburbs including Frankston and Mount Eliza,
Eastern and North-Eastern suburb locations:
We have a number of clubs located in the Eastern suburbs also, with Canterbury, Box Hill South, Ferntree Gully, Hawthorn East, Mooroolbark and Ringwood to choose from.
Northern suburbs locations:
With plans for further expansion into Melbourne's Northern suburbs, we currently have clubs located in Bundoora, Coburg, North Melbourne and Parkville.
Western suburbs locations:
We also have personal training and fitness studios at Footscray and Sunshine (on-site at Sunshine Hospital).
Click here to view all our EFM Gyms in Melbourne and Victoria.
If you're ready to register right away for this month's special Melbourne gym, click here!
We look forward to helping you towards your health and fitness goals!