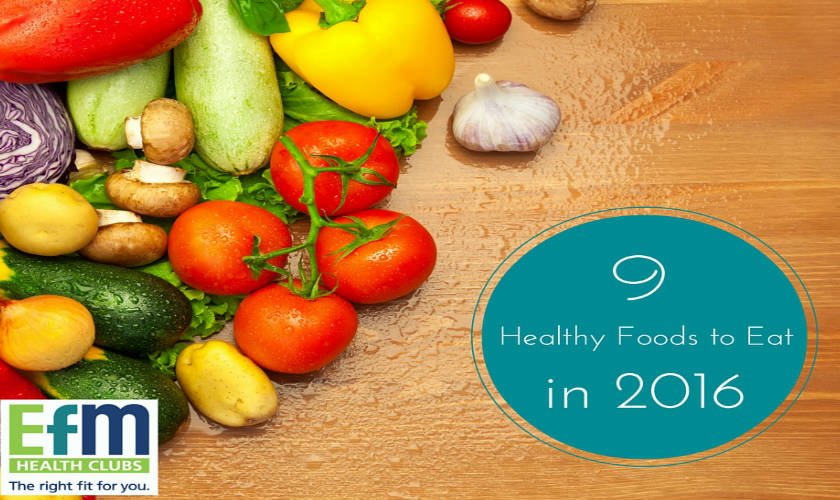 9 Healthy Foods to Eat in 2016
Eat this, don't eat that. If you do eat this though, make sure you don't do it after X o'clock. Confused? For sure. It's hard to find simple, no-fuss eating advice on what foods are good for you. Today we're going to share 10 foods that have fantastic health properties.
All you really need to know about these 10 foods is that they're healthy and the real key is just eating plenty of variety. These 10 give you a great start. So don't go eating fish for every meal, but having it a couple times per week is a fantastic idea.
Likewise with the fruits mentioned, don't go having 4 serves per day, just a little bit here and there through the week. It's all about balance.
With that being said, here are 10 foods that are fantastic options as part of a balanced diet.
Fish: Salmon or trout cut in a 200 gram serving will satisfy your hunger and give a good amount of omega-3 which can help burn fat by using it as energy for your daily activities. According to researches, omega-3 can also help suppress a person's appetite which is good for weight watchers.
Eggs: They provide a good dose of zinc and iron to keep your heart healthy resulting to a better physiological process for your body. Eggs also pack a lot of protein and nutrients to keep you skin and muscles in good condition. They also contain the brain developing choline and vision enhancing lutein.
Turkey: Consuming turkey will make you feel full which reduces your chances of overeating. It also helps you retain your muscle mass as you burn fat during activities thanks to the amino acid leucine. It is an inexpensive source of protein, iron, phosphorus, zinc, potassium and B vitamins.
Apples: This is a common go-to-fruit since it's very easy to find and satisfying to eat. This is due to the fiber known as pectin. The peels have been found to have antioxidant properties which help reduce the spread of cancer. They only have a little trace of sodium and 0 fat or cholesterol.
Soup: Never take for granted those homemade soups filled with fresh vegetables, stripped-down meat and low-sodium broth. Keep in mind that they are not only good for the soul but they are also good sources vitamins, fiber, nutrients and minerals. Since it is easy to digest, they put minimal stress on your digestive organs as they move through your body without lingering.
Oats: They help control blood sugar levels as they reduce the amount of bad cholesterol in your body. Just make sure that you choose the steel-cut variety since you would prefer to get the most nutrients and benefits from them. Instant oats tend to be over-processed, diminishing the nutritional content they carry.
Avocados: These fruits are known to help in reducing the chances of bloating. People get avocados for their potassium and weight loss properties. They also pack a lot of healthy fats that reduce cholesterol and risks of heart disease.
Bananas: This fruit is also known to be filled with potassium. Very common and easy to eat, it is great tasting fruit that is beneficial to digestion and weight loss since they contain no trace of saturated fat. Be careful though when choosing your banana as the riper they get, the more sugar they contain.
Grapefruit: This fruit can set your metabolism rate for the day if you add it to your breakfast. It is high in fiber which protects the digestive tract by lowering the exposure time to toxins in the colon. It is also low in calories amounting to only 42 calories per 100g serving which is excellent when you aim to lose weight. It is also an excellent source of vitamin C to develop your body's natural resistance against illnesses.