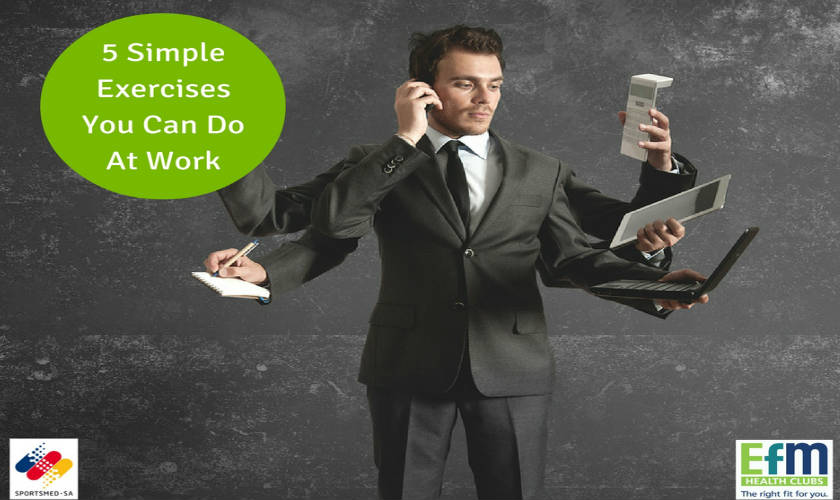 5 Simple Exercises You Can Do At Work
Article provided by the team at SPORTSMED·SA
Whether it's utilising your desk, chair or office space, there are a number of basic and inventive exercises you can perform at work. The following five exercises will help you to enjoy a healthier, less stressful and ultimately happier day at work. Best of all, they require no equipment and can be done in the shortest of breaks.
Push-ups
Raise your body up off the floor by extending arms with body straight and repeatedly push yourself up and lower down.
Sit-ups
Lift your back from the floor and curl forward until you reach your knees.
Squats
Start to lower your body as far back as you can by pushing your hips back and bending your knees as if you are about to sit down in a chair. While lowering and bending into the squat, raise and extend your arms out in front of you for balance. Keep your back straight and chest lifted – not rounded – at all times. Slowly lift back up to the starting position and repeat.
Stairs workout
If you have stairs in your office use them! Avoid taking the elevator and either walk or jog up the stairs to achieve a real leg burn and workout feel.
Desk dips
Sit on the edge of your desk and place your hands on either side of your body. Grip the edge, plant your feet on the floor and step forward, away from the desk before straightening up your arms to lift your body up. Bend at the elbows on a 90-degree angle and slide forward to dip down before pushing back up. Repeat and keep your body raised above the desk. You can also use a chair if it is more comfortable.
For all the latest news, information and events from SPORTSMED·SA, visit – http://www.sportsmed.com.au/news-and-events/latest-news
SPORTSMED·SA Stepney Clinic and Orthopaedic Hospital
32 Payneham Road
Stepney SA 5069
T: (08) 8130 1222
W: www.sportsmed.com.au
SPORTSMED·SA Blackwood SPORTSMED·SA Henley Beach SPORTSMED·SA Kurralta Park SPORTSMED·SA Morphett Vale SPORTSMED·SA Woodville SPORTSMED·SA Mt Gambier SP