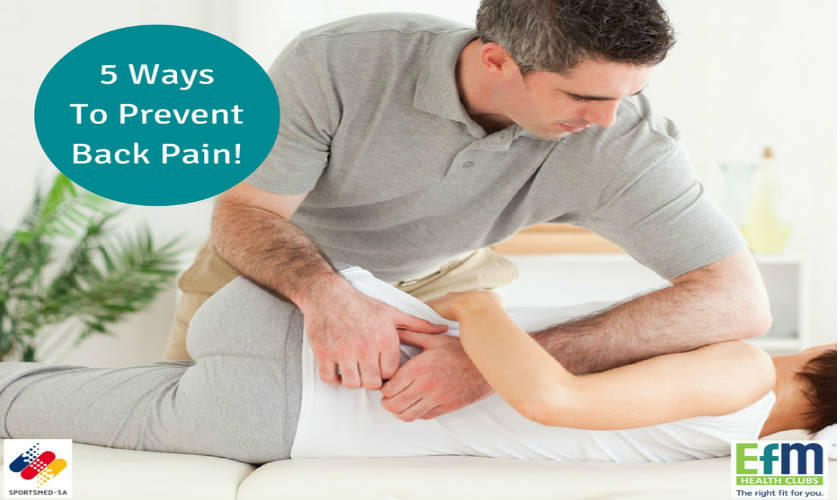 5 Ways To Prevent Back Pain!
Article provided by the team at SPORTSMED·SA
With approximately 8 in 10 people affected, almost everybody has suffered from back pain at some point in their lives. It may even be troubling you right now, or maybe you have just recovered. No matter what situation you are in, protecting your back is vital.
Our physiotherapy team suggest five ways to keep your back pain-free and your spine healthy.
Posture
You know your posture is good when your chest is slightly lifted, your shoulders are relaxed back and down away from your ears, your chin is slightly tucked, your head is level and your stomach muscles are contracted, maintaining a neutral spine. Check every 30 to 60 minutes how your body feels from head to toe and then aim to stand or sit tall and brace your abs gently, taking the load off your back.
Regular Movement
If you spend a large amount of your time sitting down, make sure you take regular breaks (ideally every 30 minutes) to get out of your chair, walk around for a bit and stretch out your back. The same rule applies to extended car trips.
Stretching
Lying on your back and rolling your legs from side to side and performing a variety of stretching exercises specific to the back, will loosen and ease tension in the affected area. Light non-specific back exercises are also encouraged such as regular walking.
Office Ergonomics
Ensure your workstation is appropriately set up to avoid causing further damage to your back and spine. Examine your chair height, back support, computer screen, keyboard and mouse position, and the distance you sit from your desk.
If you are not getting enough shut-eye, this could cause stress to your whole body, resulting in more tightness through the back and neck. Try making sleep a priority by setting a consistent 'bedtime' and sticking to roughly the same waking time, ensuring you get at least seven hours of sleep per night. Also have a closer look at your pillow and mattress. Waking up with back pain is a big indicator that these are either not right for you (too hard, too soft), or simply need replacing
For all the latest news, information and events from SPORTSMED·SA, visit – http://www.sportsmed.com.au/news-and-events/latest-news
SPORTSMED·SA Stepney Clinic and Orthopaedic Hospital
32 Payneham Road
Stepney SA 5069
T: (08) 8130 1222
W: www.sportsmed.com.au
SPORTSMED·SA Blackwood SPORTSMED·SA Henley Beach SPORTSMED·SA Kurralta Park SPORTSMED·SA Morphett Vale SPORTSMED·SA Woodville SPORTSMED·SA Mt Gambier SPORTSMED·SA Victor Harbor SPORTSMED·SA Darwin