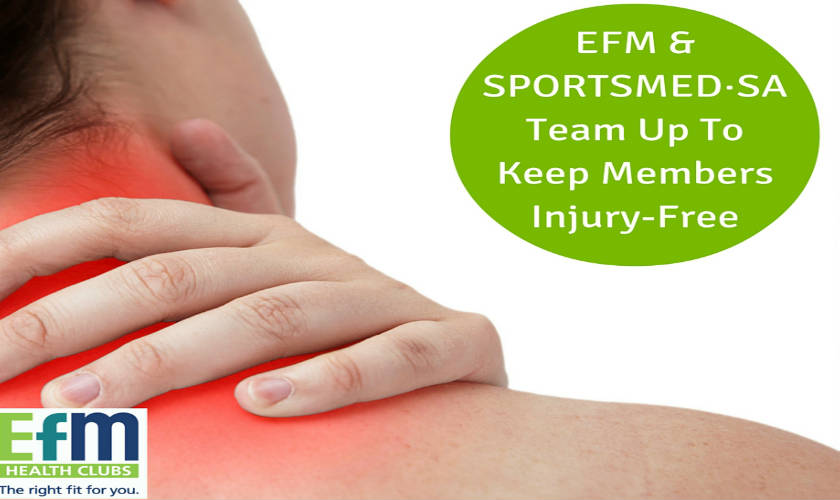 EFM & SPORTSMED·SA Team Up To Keep Members Injury-Free
EFM Health Clubs are excited to announce a new major partnership with SPORTSMED·SA that will help members and patients to stay active and injury free.
Effective immediately, new members of EFM will be able to access a free* health screening provided by a SPORTSMED·SA Exercise Physiologist.
The SPORTSMED·SA Exercise Physiologist will assess physical health and develop a report that will be sent back to the EFM trainer, who will use it to tailor an individual exercise plan specific to each member.
The health screening involves:
A review of your full medical history
Blood pressure measurements
Movement and cardiovascular health analysis
Undergoing a health screening will help keep EFM members injury free to ensure they get the best out of their membership.
If an EFM member assessed by the Exercise Physiologist requires health treatment prior to starting any exercise, they are provided with priority access to a range of SPORTSMED·SA services including orthopaedics, physiotherapy, sports doctors and physicians, podiatry and massage.
CEO of SPORTSMED·SA Hospital and Orthopaedics Alan Morrison said the partnership with EFM provides members with tailored services that are unique within the fitness industry.
"EFM and SPORTSMED·SA share many of the same values and by partnering together we can help members and our patients to remain healthy, active and injury free," he said.
"EFM members will gain access to a personalised service that is unlike anything offered by other gyms and we can refer our patients to EFM knowing they will get the best possible fitness advice and service.
"This partnership allows SPORTSMED·SA to offer our patients a holistic service with a focus on patient health and well-being, while helping EFM members achieve their health and fitness goals and prevent possible injuries."
Specialising in the assessment, treatment and recovery of orthopaedic, sporting and arthritic musculoskeletal conditions, including joint replacements, SPORTSMED·SA offers patients access to orthopaedic surgeons, physiotherapists, sports doctors and physicians, podiatrists, massage therapists, exercise physiologist and dietitian.
EFM members in SA looking for more information on how to take advantage of the health screening offer, can contact their local EFM and EFM coach or visit the SPORTSMED·SA website.
* Terms and Conditions Apply