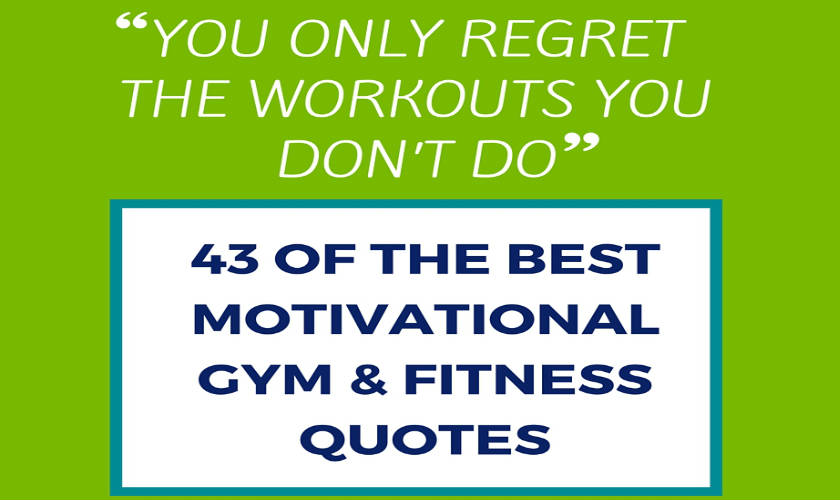 43 of the Best Motivational Gym & Fitness Quotes
 A one hour workout is only 4 percent  of your day. NO EXCUSES.
 Be stronger than your excuses.
 Do something today that your future self will thank you for.
Every positive thought propels you in the right direction.
Excuses are for people who don't want it bad enough.
 Excuses don't burn calories.
 Fitness is not about being better than someone. Fitness is about being better than the person you were yesterday.
 I can. I will. End of Story.
 I may not become perfect, but I sure as hell am going to come close.
 I'm doing it for ME.
"I" Is the only difference between fit and fat.
 If you still look cute after the gym, you didn't workout hard enough.
 Muscles are torn in the gym, fed in the kitchen and built in bed.
 No one ever drowned in sweat.
No one is you, and that is your power!
Pain is temporary, pride is forever.
Squat like Channing Tatum is watching. – Erin Weiss
 Stop waiting for things to happen. Go out and make them happen.
Strive for progress, not perfection
Success doesn't happen overnight. Keep your eyes on the prize and don't look back
 Surround yourself with people who believe in your dreams.
Sweat is your fat crying.
Take care of your body. It's the only place you have to live.
The body achieves what the mind believes.
 The difference between who you are and who you want to be is what you do.
The good stuff is always worth the work it takes.
The last three or four reps is what makes the muscle grow. This area of pain divides the champion from someone else who is not a champion.
 The miracle isn't that I finished. The miracle is that I had the courage to start.
The only disability in life is a bad attitude.
The only way to define your limits is by going beyond them
 The only way to finish, is to start.
The secret to getting ahead is getting started.
 There are seven days in a week and someday isn't one of them.
 Think BIG and don't listen to people who tell you it can't be done. Life's too short to think small.
 Today I will do what others won't, so tomorrow I can do what others can't.
 Wake up with determination, go to bed with satisfaction.
 We all have the same amount of hours in our day. Deciding how to use your hours is up to you.
Whether you think you can, or you think you can't – you're right.
You are a perishable item. Live accordingly
You are what you eat, so don't be fast, easy, cheap or fake.
You can only fail if you quit.
 You have to expect things of yourself before you can do them.
The best project you'll ever work on is YOU.