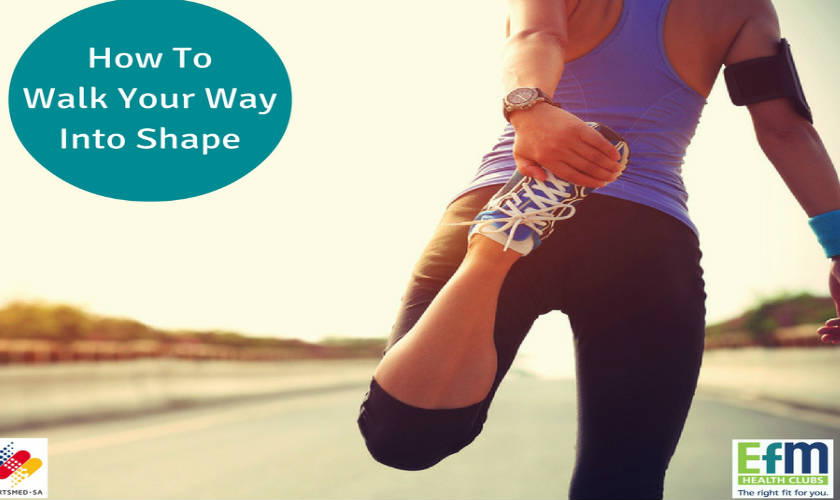 How To Walk Your Way Into Shape (Guide To Walking For Fitness)
Article provided by the team at SPORTSMED·SA
Walking has huge benefits for our wellbeing and has been proven to reduce a number of major health risks including cancer and diabetes.
Beyond the physical benefits, walking is also known to help work up a mental sweat. A number of studies have shown that it can improve memory, thought process, thinking skills and creativity.
How often should I walk?
How to lose weight walking:
To begin with you should aim to start walking for approximately 10-15 minutes a day in addition to the everyday steps you may take when at your workplace or completing household tasks. Gradually increase your time before eventually walking 20 to 30 minutes a day where you can expect to achieve considerable results.
How far do I need to walk?
In the early stages you should aim for 6,000 steps a day, eventually progressing to a standard target of 10,000 to 12,000 steps which equates to closely 8-10km. For those who are walking to remain active and maintain their weight then 10,000 to 12,000 steps is recommended. People who wish to use walking as an exercise to help lose weight are advised to aim for 15,000 daily steps.
How fast should I walk?
The speed you walk determines how much energy you burn, but there is no specific pace you must keep with.
Walking is a progressive exercise and steadily you will become quicker as you become fitter in order to cover a greater distance in less time. Interval-style walking can be very helpful whereby you power walk for 30 to 60 seconds before slowing down to recover.
You repeat the short, sharp bursts and recovery process for the duration you walk. This approach to walking is an effective way to improve cardiovascular fitness and enhance your metabolism.
For all the latest news, information and events from SPORTSMED·SA, visit – http://www.sportsmed.com.au/news-and-events/latest-news
SPORTSMED·SA Stepney Clinic and Orthopaedic Hospital
32 Payneham Road
Stepney SA 5069
T: (08) 8130 1222
W: www.sportsmed.com.au
SPORTSMED·SA Blackwood SPORTSMED·SA Henley Beach SPORTSMED·SA Kurralta Park SPORTSMED·SA Morphett Vale SPORTSMED·SA Woodville SPORTSMED·SA Mt Gambier SPORTSMED·SA Victor Harbor SPORTSMED·SA Darwin