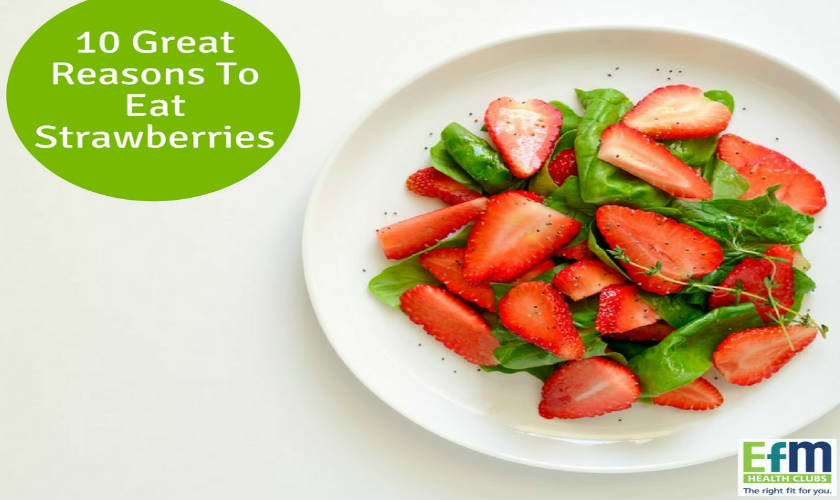 10 Top Health Benefits of Strawberries (Great News For Strawberry Lovers!)
With its heart-like shape and vivid red color, many people consider the strawberry as their favorite fruit.  In addition to that, strawberries are also flavorful and delicious, plus they're packed with nutrients.  If there's one fruit that you won't mind eating more of, it's the strawberry. Let's take a look at some of the healthy reasons why eating strawberries is great!
Top Benefits of Strawberries   
Contains flavonoids to protect the body from cancer
These flavonoids, namely kaempferol, anthocyanins, quercetin and vitamin C shield the body from the growth of abnormal cells.  These cells can eventually develop into cancer but with regular consumption of flavonoids, it's argued that less of these cells progress to disease.
Fortifies the heart against cardiovascular conditions
The antioxidants together with the fiber and polyphenol in strawberries help in lowering the amount of cholesterol and inflammation in the blood vessels and the heart.  These keep the heart strong against cardiovascular conditions.
High in antioxidants to increase brain function
The damage caused by free radicals is the main cause of premature aging including in the brain.  Antioxidants combat these free radicals in the body to help repair cells and prevent further damage.
Helps prevent birth defects in pregnant women
It's necessary for pregnant women to take folate for the health of the child in their womb.  Thanks to its folic acid content, strawberries can aid the body in inhibiting birth defects in infants.
Strengthens your immune system against diseases
Because of the Vitamin C in strawberries, they can increase the body's defense against bacteria that cause sickness and infections.  A stronger immune system makes you less susceptible to colds and other viruses.
Keeps your eyes healthy to ward off free radical damage
Free radical damage in the body includes the eyes like macular degeneration and problems with vision.  The antioxidants in strawberries play a role as well in maintaining eye health.
May help regulate blood sugar levels
Low glycemic index foods are recommended for diabetic patients and strawberries are among those.  They are also naturally high in fibre to keep the blood sugar levels in balance.
Rich in potassium to help control blood pressure
One mineral that the body is often deficient of is potassium, and it can be found in a large amount in strawberries.  Potassium promotes proper circulation of blood throughout the body to lessen hypertension.
Promotes healthy digestion
Low in calories and high in fiber, strawberries can regulate the movement of waste through your digestive system.  Strawberries also contain water to provide more hydration, ease the passage of waste and avoid constipation.
Reduces and guards against inflammation
One of the indicators of inflammation in the body is an increased level of C-reactive protein.  Consuming more strawberries has been linked to a lower incidence of high CRP levels.
 The best part about strawberries is that they're so delicious, everyone loves them.  You can eat them fresh or as ingredients in sweets, salads and desserts.  You can also enjoy them preserved in jellies or jams or mixed with other fruits in shakes and juices.
Also read: HEALTH BENEFITS OF APPLES (WHY THEY'RE GREAT FOR ADULTS & KIDS!)