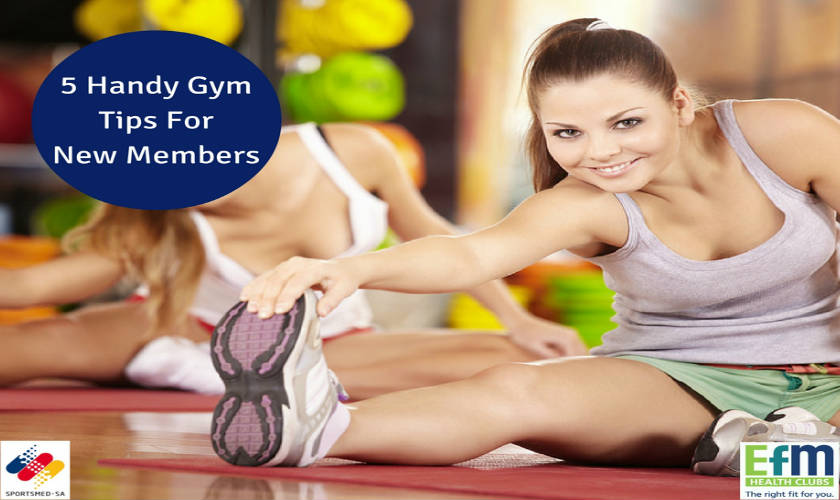 5 Handy Gym Tips For New Members
Article provided by the team at SPORTSMED·SA
As a new EFM member you are getting ready to work with your coach on your individual exercise plan and hit the gym to reach those personal health and fitness goals. Here are five tips to help you get started.
Ask for help!
Whenever you have a question or query seek the assistance of your EFM coach – that's what they are there for! Whether you are unsure how to use a certain machine or are finding it difficult to understand the instructions of your exercise plan, an EFM coach can help.
Stretch
Many gym exercises can produce significant loads on body structures. When skilled movements are not coordinated properly, imbalance may occur resulting in injuries or poor form as a consequence. Warm-up encourages physiological and neurological activities, which can improve your flexibility and assist in the execution of good technique.
Practice and Learn
While adjusting to your tailored exercise plan it is important to learn how to use different machines properly, practice correct techniques and determine what weights and workload are appropriate for you under the guidance of your EFM coach.
Record Progress
Keep a log of your progression and training stats with your EFM coach. Write down weight lifted, reps, exercises attempted, time etc. as you exercise to give you an idea of how you are tracking and to reflect on previous results and how far you've progressed.
Patience
Patience is a virtue in the gym. It can be easy to get carried away and over-exert yourself in the pursuit of losing weight and/or building muscles. It's important to train slowly as you begin to work through your exercise plan. Trying to rush or overdo it will only result in injury and affect your recovery time for future workouts.
For all the latest news, information and events from SPORTSMED·SA, visit – http://www.sportsmed.com.au/news-and-events/latest-news
SPORTSMED·SA Stepney Clinic and Orthopaedic Hospital
32 Payneham Road
Stepney SA 5069
T: (08) 8130 1222
W: www.sportsmed.com.au
SPORTSMED·SA Blackwood SPORTSMED·SA Henley Beach SPORTSMED·SA Kurralta Park SPORTSMED·SA Morphett Vale SPORTSMED·SA Woodville SPORTSMED·SA Mt Gambier SPORTSMED·SA Victor Harbor SPORTSMED·SA Darwin