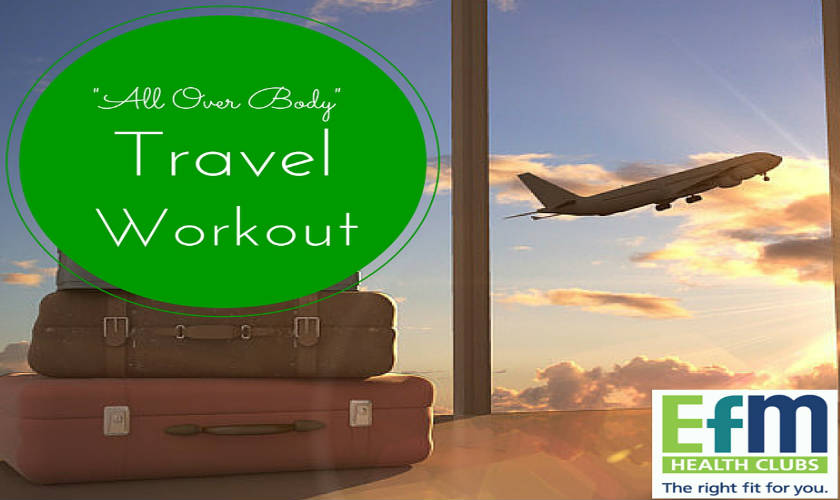 "All Over Body" Home & Travel Workout
Can't make it to EFM today but still looking for a quick fitness fix? Are you travelling for work or holidays and want to maintain your workout consistency?
Try our "All Over body" Travel workout!
6 tips for completing this short, sharp and shiny program.
1. Warm up – remember to focus on the muscle groups you will be using in the session.
2. You may need to adjust distances, levels and quantity depending on your gym layout and available machines
3. Make sure weights are balanced, safe, and that you're using correct technique and appropriate resistance.
4. Adjust times to suit your total available workout time.
5. Work through, in order, from top to bottom.
6. Interval training activity can be a jog or brisk walk if no cardio equipment is available.
Session Format
Warm up:
5 mins on a cardio machine, such as an exercise bike, of your choice
Session Outline:
Star Jumps 2 x 75 (low impact)
Interval training 10 x 50m sprints on x-trainer or rower (15 second rest between)
Skipping 2 x 250 skips (if no skipping rope avail, perform 2 x 250 small jumps)
Burpees 3 x 15
Shadow Boxing

50 Jabs Each Arm (with weights if available)
100 Upper Cuts
100 Hooks
100 Straight punches

Floor Crunches 2 x 15 (Up – Pause – Down)
Leg Raises 2 x 15
Heel Taps 2 x 15
Prone Brace 1 min
Push Ups 2 x 15
Squats 2 x 15
Cool down:
5 minutes of low-intensity cardio such as a walk and stretching
You're done!
The information and content of this website is of a general nature only and does not constitute advice to you. By accessing this website, you agree that: (1) you do not rely on the information and content of this website and (2) you will seek personalised medical, nutritional and/ or fitness advice applicable to your circumstances (as appropriate).