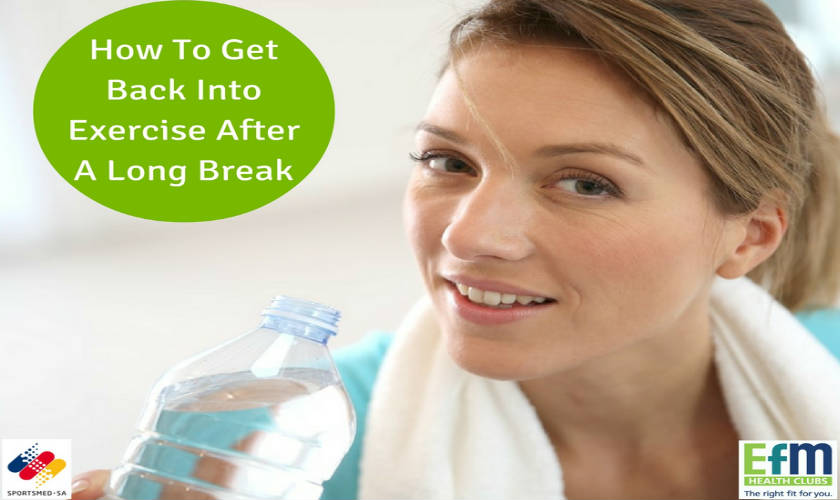 How To Get Back Into Exercise After A Long Break
Article provided by the team at SPORTSMED·SA
While in the past you have been able to make time and find the energy to exercise, you've recently been snowed under with work and various other commitments and found it too difficult to work out. But now you're back and ready to return, however you don't know where to begin or how to start again.
Below are three key tips to help you transition smoothly back into exercising.
Commitment Plan
Make a commitment to attend the gym and exercise a certain amount of times per week/month e.g. at least three times a week for a month. Eventually this will become your routine, making it easier to gradually exercise more and more as you progress.
Start Small
Keep it small and simple to begin with as you continue to build into the habit of exercising and working out at the gym. Exercise at lower levels and capacity before eventually returning to your full workload.
Have Fun
Don't treat exercising as a chore and the gym as some stressful place to attend otherwise you will never want to exercise again! Try your best to have fun exercising. If you don't feel comfortable running on the treadmill or lifting weights, switch it up and find exercises that you can enjoy and will help you maintain the motivation to continue to work out. Your EFM coach can tweak your existing exercise plan and suggest other alternatives.
For all the latest news, information and events from SPORTSMED·SA, visit – http://www.sportsmed.com.au/news-and-events/latest-news
SPORTSMED·SA Stepney Clinic and Orthopaedic Hospital
32 Payneham Road, Stepney SA 5069