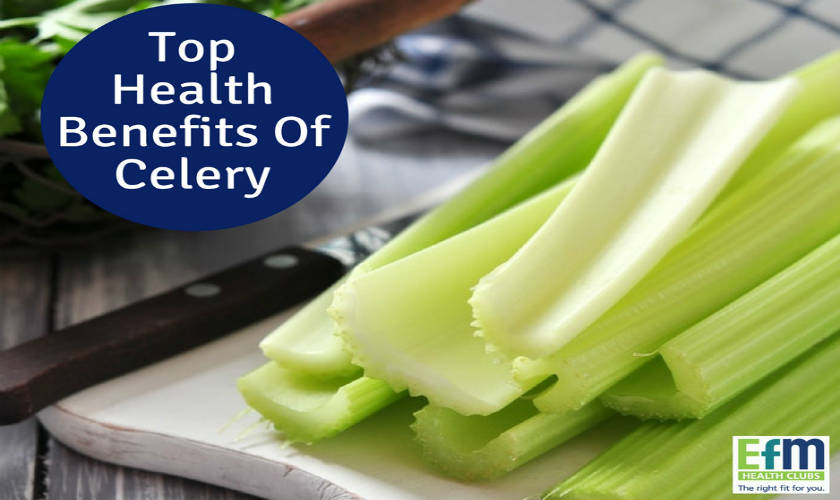 Health Benefits of Celery (8 Reasons To Choose Celery)
Updated May 9 2023
Celery is a vegetable that is believed to contain tons of antioxidants and enzymes, as well as vitamins and minerals. While it is a great healthy snack option, it also offers plenty of health benefits. Read on to learn more about the benefits of celery and how to get more into your diet!
8 Top Benefits of Celery
Contains anti-inflammatory properties
Celery has polysaccharides and antioxidants that serve as anti-inflammatory agents. It contains polyphenol and flavonoid that help support overall health by fighting off the free radicals or oxidative stress that can lead to diseases. It is said that inflammation causes chronic diseases, such as arthritis, heart disease, and cancer.
Scientists have found over a dozen types of antioxidants present in celery, making it useful for treating various health conditions caused by inflammation. It means it is good for people suffering from joint pains, kidney and liver problems, gout, skin disorders, urinary tract infections, and irritable bowel syndrome, to name a few.
Helps support digestive tract
This vegetable contains polysaccharides that help keep the digestive system healthy. Polysaccharides are pectin-based antioxidants with anti-inflammatory benefits. Studies have shown that celery extracts can help prevent gastric ulcer.
Helps regulate blood pressure
Celery seed extracts were found to have anti-hypertensive properties that can help regulate blood pressure. Keeping blood pressure under control will help prevent coronary heart disease, which is one of the leading causes of death in industrial nations.
The seeds contain methanolic, hexanoic, and aqueous ethanolic extracts that promote blood circulation, reduce inflammation, and regulate blood pressure. Researchers believe that celery serves as a muscle relaxant, and helps blood vessels to contract and expand.
Helps reduce cholesterol
Another reason why celery is good for the heart is its ability to lower cholesterol. This is due to its unique compound, 3-n-butylphthalide, that has been reported to have lipid-reducing action. When consumed regularly, celery can help improve total cholesterol, reduce LDL or the bad cholesterol, and triglycerides.
Helps protect liver
Studies have found that this vegetable can help reduce the fat build-up inside the liver, improving organ function. Eating celery every day can help improve enzyme function in the liver, as well as blood lipid levels. A diet high in celery consumption can be beneficial for people with liver problems.
May help fight cancer
Another reason why you should consider including celery in your daily diet is its anti-cancer properties. This vegetable is included in the same plant family as other cancer-fighting vegetables like parsley, carrots, fennel, and parsnips.
They all contain polyacetylenes, which are chemo-protective compounds that were found to help combat cancer formation and reduce toxicity. Vegetables like celery can specifically help the body fight against intestinal cancer, breast cancer, and leukaemia. In addition, polyacetylenes can give the body's immune system a big boost to prevent diseases.
Aids in weight loss
Celery is low in calories, so people who want to lose or maintain their weight should consider it as a great snack option. It will not hurt your daily calorie intake, and it is packed with vitamins and nutrients that will help keep you healthy.
You can slice it into strips, and dip them in a healthy homemade sauce. For maximum weight loss, you can also eat it along with carrots and other vegetables. Snacking on celery is filling and guilt-free. Acting as a low-calorie, healthy snack option is one of the top reasons why celery is so beneficial.
Helps maintain heart health
As mentioned earlier in this article, celery does have tons of anti-inflammatory and antioxidant properties. It helps regulate blood pressure and lower cholesterol levels, improving overall heart health. The inflammation and oxidative stress in the bloodstream can cause cardiovascular problems, especially atherosclerosis. Thanks to the large number of anti-inflammatory properties and antioxidants celery contains, eating this vegetable every day will help you live longer with lowered risk for heart diseases.
Celery Meal Ideas
Wondering how to get more celery into your diet? Enjoy this fantastic, nutritious food with these five ideas!
Celery Soup:
One of the most delicious ways to consume more celery is by preparing a creamy celery soup.
Simply sauté chopped onions, celery, and garlic in butter or oil, then add vegetable stock and let it simmer until the vegetables are tender.
Blend the mixture to your desired consistency, and finish with a splash of cream or a dairy-free alternative. This comforting soup can be served hot or cold, making it an excellent addition to your meal rotation.
Here's a great recipe example!
Celery Stir-fry:
Celery can be a crunchy and vibrant ingredient in a stir-fry dish.
Combine sliced celery, bell peppers, onions, and your choice of protein (such as tofu, chicken, or shrimp) in a hot wok or frying pan. Season with soy sauce, garlic, ginger, and a touch of honey or sugar for a well-rounded flavour.
Serve over rice or noodles for a filling, nutritious meal.
Stuffed Celery Sticks:
For a quick and healthy snack, try stuffing celery sticks with various fillings.
Cut the celery into 3-4 inch pieces and fill the groove with your choice of spread, such as cream cheese, peanut butter, or hummus.
For added texture and flavour, top with raisins, chopped nuts, or sliced olives. These make for a convenient, portable snack or a fun appetiser at parties.
Celery and Apple Salad:
A refreshing and light salad option is to combine thinly sliced celery with crisp apple slices, mixed greens, and a tangy dressing.
Toss together with toasted walnuts or almonds, crumbled feta or goat cheese, and a simple vinaigrette made from olive oil, lemon juice, and Dijon mustard. This salad is perfect for a light lunch or as a side dish with your main meal.
Braised Celery:
For a tender and flavourful side dish, try braising celery in vegetable or chicken broth.
Cut the celery into large chunks and cook them in a shallow pan with some butter, minced garlic, and a splash of broth until they are slightly softened. Add more broth to the pan, cover, and let it simmer until the celery is tender and the liquid has mostly evaporated.
Season with salt, pepper, and chopped herbs such as parsley or dill for an aromatic finishing touch.
Also read: BYE-BYE FLABBY BITS: HOW TO LOSE LOVE HANDLES
When starting any new diet or nutritional program, we recommend that you seek the advice and support of a qualified professional to ensure that it is suitable for you and your individual circumstances.