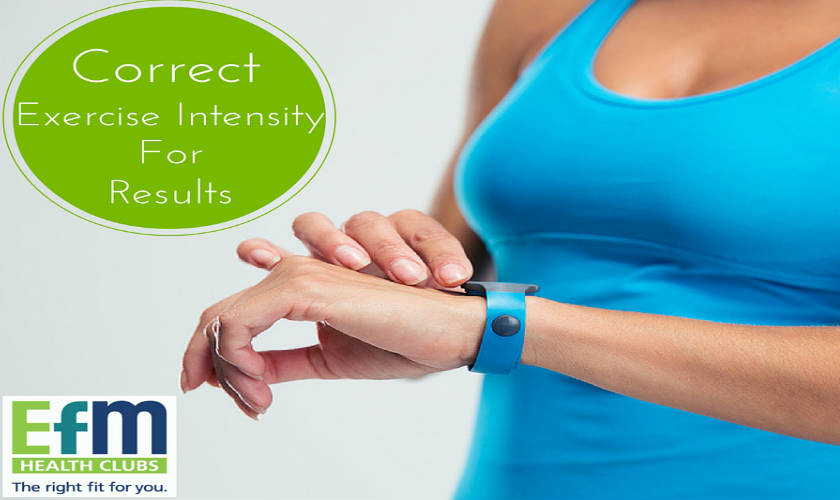 How to Know You're Exercising at the Right Intensity
A simple way to workout if you are exercising at optimal intensity for weight loss and fitness gains is using a 1-10 rating system of intensity.
You may not know it, but your EFM Fitness Coaches are always circling the room and getting a feel for how hard you are working. It may seem that all the little questions and short conversations are just your Coach showing a genuine interest in you (which they of course are), however those little conversations also help your Coach to understand how hard you're exercising!
We generally aim to have our members exercise at a level of 7.5/10 (75 percent of maximum effort). This is the optimal cardiovascular training intensity for most members to achieve the goals of increasing fitness and losing weight.
EFM Fitness Coaches are skilled at working out the intensity that members are exercising at, but how do they know?
We've outlined the signs and symptoms of appropriate exercise intensity below:
Level 6 – This is where you are starting to feel warm. You can talk in full sentences and probably string more than one sentence without taking a breath.
Level 7 – Feeling warm, breathing rate is increased, but you can can still talk in full sentences before pausing to take a breath.
Level 7.5 – Puffing/sweating, you can only respond in 4-6 words per breath if asked a question
Level 8 – Starting to gasp for air, can only give one-three word answers in conversation. You probably don't feel much like talking anyway!
Level 9 – Can't talk, gasping for air.
Level 10 – Can no longer continue with the exercise due to fatigue
Remember – Exercise should feel uncomfortable, not painful.
So how do you know if you're at 7.5 out of 10 rating?
Essentially, the main distinction between level 7/10 and 8/10 is your ability to talk.
If you're only able to spit out one or two words you're probably above 7.5/10 whereas if you're able to hold a full conversation, you're below 7.5/10. You just need to find the right point between and that's what your Fitness Coach is on hand to help with. 4-6 words per breath is the sweet spot.
You can use this rating system to gauge the effectiveness of your exercise both at EFM and when exercising away from EFM. Of course when you're at the club, your Fitness Coach is always on hand to adjust your machines to make sure you're at the right level!
The information and content of this website is of a general nature only and does not constitute advice to you. By accessing this website, you agree that: (1) you do not rely on the information and content of this website and (2) you will seek personalised medical, nutritional and/ or fitness advice applicable to your circumstances (as appropriate).