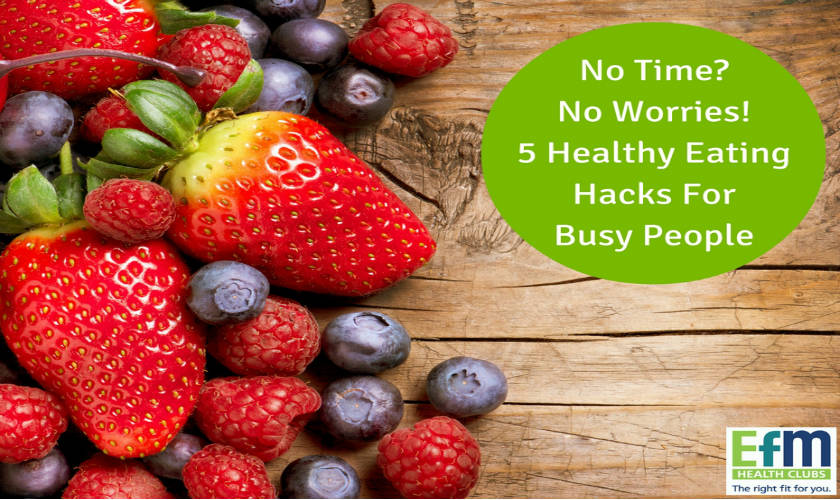 No Time? No Worries! 5 Healthy Eating Hacks For Busy People
Even though preparing meals might sound like a chore, it is one of the most important keys to the success for a consistent healthy lifestyle. The more frequently you are able to make use of the following tips, the less total time your meal planning takes as time goes by. In time, healthy lifestyle habits will be easier… It's like anything else; practice makes perfect!
Always carry a water bottle.
Hydration is a crucial part of being healthy. Try to make it your priority to carry a water bottle with you often and refill it all through the day. If you are active, you'll need to replenish what you have lost by sweating, too, but a good rule of thumb is to aim for 1.5 litres of water consumed during the day whilst at work.
Opt for the frozen foods.
Frozen foods could be healthy alternatives to fresh produce, and they usually last longer too. Fruits and vegetables are gathered at the peak of their ripeness and flash frozen in order to preserve their most nourishing value. Some good staples are the following: corn, peas, broccoli, cauliflower, and your spinach. Not to  forget is your protein, as well—frozen proteins such as shrimp, salmon, tilapia and even also your chicken could make your boring weeknights easier. Just a tip: Try to refrain from the frozen produce which are packed in the sauces as well as syrups.
Roast your vegetables by batches.
Prior to your new week starts, already line a rimmed baking sheet with a parchment paper and then roast off your fave vegetables such as broccoli, Brussels sprouts, cauliflower, mushrooms, butternut squash, kale and sweet potatoes. This one small yet crucial step would aid in ensuring healthful eating throughout the entire week.
Toss roasted veggie on your salad, in your egg omelet or even in your breakfast scramble, served on the side of your grilled chicken or also in a wrap. In order to roast veggies, start by preheating the oven to 425 degrees, with line rimmed baking sheet with parchment paper, then arrange the vegetables on your baking sheet so as not to overcrowd the pan, and mist the vegetable with olive oil or coconut oil. Then, sprinkle with salt and pepper.
After that, you now bake for 25 to 45 minutes, depending on the toughness of the vegetables, till it starts to turn brown and crispy.
Prepare for your meals in advance.
Being proactive regarding your meal planning could in fact save you loads of time and most of all, stress along the way. Whilst the upfront work might scare some, you would be grateful if you find yourself running already late and you got a few minutes to eat.
Choose a night or a day in which you can  prepare numerous meals which you could merely warm up all the way through the week. Or you can take the time just to separate the snacks into some portion-controlled bags which you could grab on your way out of the door.
Raw veggies are always a simple but still nutrient-dense choice. If you are just new to planning your meals, check out some of the great beginner's guide for meal planning on the Web, which can be full of tips and tricks on how to get started.
Have a ready supply of healthy snacks.
Say goodbye to the office candy stash or another drive thru when your usual midday hunger strikes again. Keep some healthy snacks with you all the time and pile them inside your office drawer, refrigerator, your gym bag and most of all, inside your purse.
Your convenient go-to healthy snacks may involve nuts, homemade trail mix, fruits and also some nut bars, some apples, bananas, clementines, those single-serve nut butters, dried edamame and may also involve air-popped popcorn. If you have refrigerator in your home, then stock up on some Greek yogurt, cottage cheese and then hard-boiled eggs for those protein-packed snacks.
Plan for leftover food.
If you're preparing a big meal, double the batch. This will be one for serving and the other one for putting in the freezer or refrigerator.